Complete
multidirectional
sideloader
Complete
order picking
vehicle
Electric multidirectional sideloader 
with removable order picking platform

by

hubtex
The multifunctional 2-in-1 solution – on the one hand, the electric multidirectional sideloader with removable order picking platform from HUBTEX can be used as a conventional multidirectional sideloader. On the other hand, by attaching a platform, it can also function as a complete order picking vehicle. During the order picking operation, all functions are controlled from the platform. Lift truck and platform form one unit, providing the operator with maximum flexibility.
In addition to one-sided rack operation in narrow aisles, this order picking truck can also be used for two-sided rack operation in free-range aisles. The ready picked goods are safely removed by a separate lift truck or a transfer station. 
Maximum flexibility
Killing two birds with one stone: Whether used for picking processes with a removable picking platform, or "simply" as an electric multidirectional sideloader for moving and stacking long and heavy loads, our versatile all-rounder combines both capabilities perfectly.  
Long loads can be securely moved and stored using the HUBTEX electric multidirectional sideloader without a platform. The detachable platform provides maximum flexibility and an optimum order picking vehicle for every order situation. As soon as the HUBTEX order picking platform is attached, the multidirectional sideloader can be controlled via a control panel on the platform. Order picking directly from the rack saves a considerable amount of time. Without a platform, the complete goods packs would first have to be placed on the floor and then picked from there.
links
normal
rgba(46,51,56,0.7)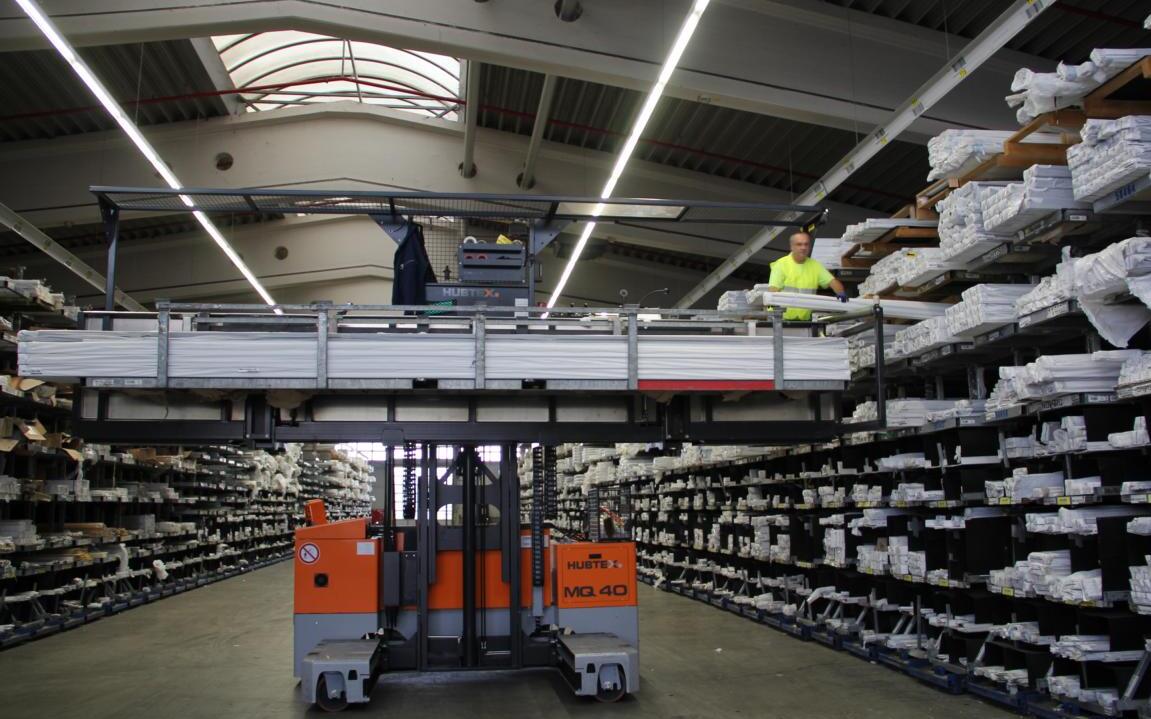 MANOEUVRING WITH mounted PLATFORM
Even with the platform mounted, our electric multidirectional sideloader can be easily manoeuvred thanks to the greatest possible overview.
Don't think so? - Then see for yourself!
Electric multidirectional sideloader
If there is no platform fitted, the vehicle functions as a conventional electric multidirectional sideloader. These sideloaders are already designed for handling long loads in their basic configuration, even in narrow aisles. A great advantage of these vehicles is that they can be supplemented by a large number of other equipment options. 
Detachable platform
For use as a pure order picking vehicle, the multidirectional sideloader is supplemented by a detachable platform, the fitting of which takes a maximum of five minutes. The operator then controls the system from the platform. They pick the materials directly from the rack compartments to the vehicle, either alone or in conjunction with another operator. 
Control panels on the platform
The electronics are configured in such a way that, if required, two control panels can also be installed. For the best possible view, the panel located at the front in the direction of travel is always activated.
We know the best solution.
We know that the handling of long goods presents users with special challenges. Arrange a non-binding consultation appointment with our specialists to obtain the best possible solution for your application.
TECHNICAL DATA

| | |
| --- | --- |
| Series |   |
| KP | Depending on the application requirements, attachable from Series 2120 / 2121 / 2125 / 2130 / 2131 / 2132 |