Order picking
on both sides
of the rack
High rate
of turnover

Narrow rack
aisle width

Electric two-sided order picking platform
with vacuum suction device
BY HUBTEX
The electric two-sided order picking platforms of the EZK series are solely order picking platforms. Whether as the 2-mast or scissor lift version, they enable the picking of high-quality sheet materials. The goods can be easily picked from either side of the rack aisle.
EZK two-sided order pickers 
In order to pick wood sheets quickly and without damage, manufacturers and dealers need an order picking system adapted to the individual requirements of the respective warehouse. With the help of a vehicle concept especially adapted to the needs and requirements of the customer, all operational requirements can be mapped with the order picking platforms.
In its basic version, the platform solution from HUBTEX is suitable for picking wood sheets, chipboard or wood decors on both sides of a rack aisle. Two operators stand on the platform and pick the material manually. In this case, the material is stored using multidirectional sideloaders. In the next expansion stage, the vehicles can optionally be equipped with vacuum suction technology that protects the material and facilitates the storage of complete packs in the racking system as well as the direct transfer of the packs to the next production stage. Consequently, no additional lift truck is required to unload the goods, meaning that the rack aisles can be particularly narrow if required.

rechts
normal
rgba(46,51,56,0.7)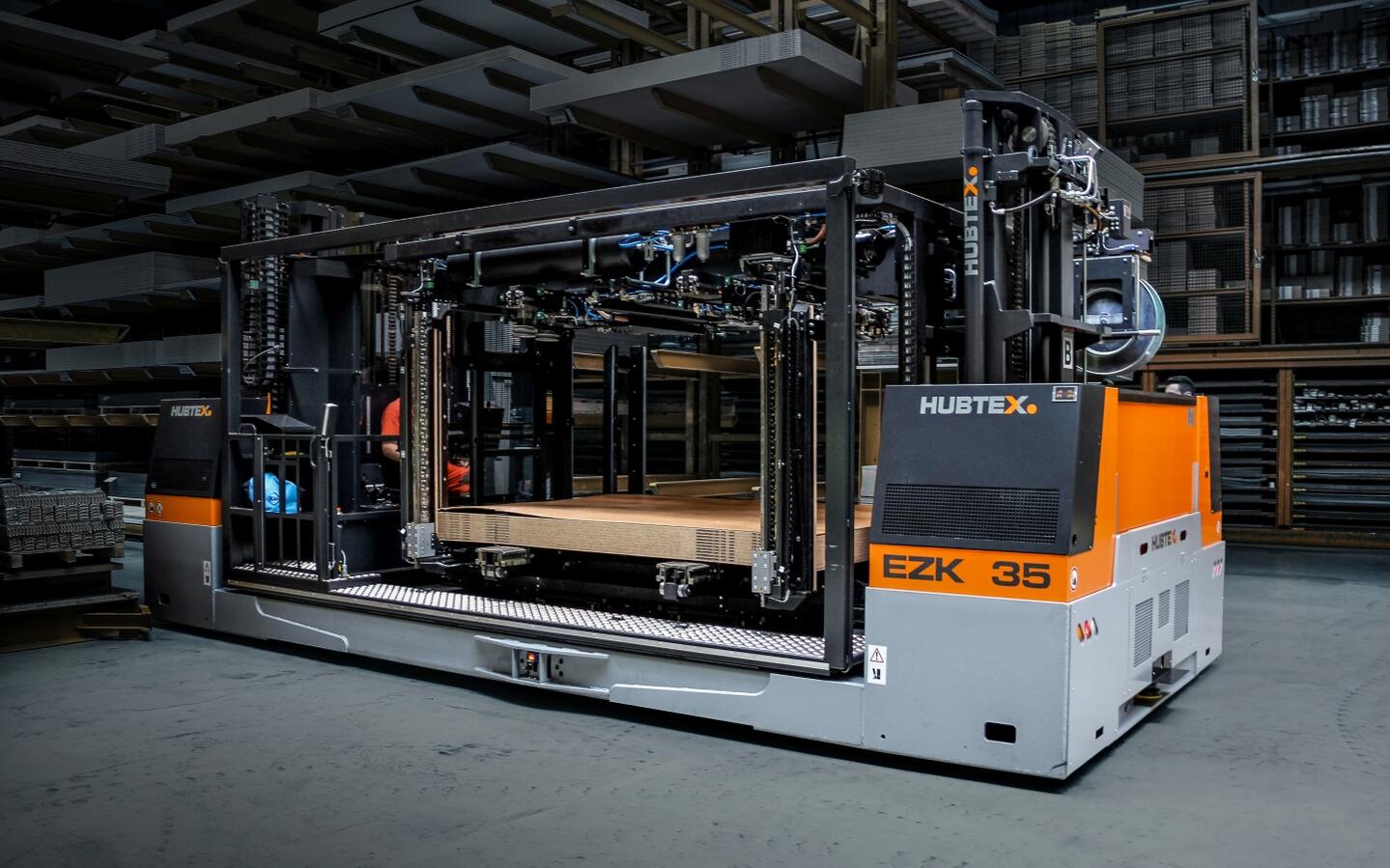 MATERIAL-FRIENDLY VACUUM SUCTION TECHNOLOGY
The use of our vacuum suction technology eliminates the need for a second forklift for unloading, as the picked goods can be transferred directly to the next production step. The vacuum suction technology also reduces picking damage to the goods, as any friction with other packages is eliminated.
TECHNICAL DATA

Series
Load capacity (t)
Load bed width (mm)
Lift height (mm)
Frame length L (mm)
Load bed opening RA (mm)
Tire equipment (optional)
Battery voltage
Cab (optional)
EZK (scissors)
3.0 to 10.0
600 to 2500
up to 10000
up to 7000
              ---
PU / EL
80 V
Driver's stand
EZK (lift mast)
3.0 to 10.0
600 to 2500
up to 10000
up to 8000
              ---
PU / EL
80 V
Driver's stand
EZK + Vacumax
Can be attached to both EZK variants depending on the application requirements
EZK + AGV
Automation on request