Ergonomic
cab entry

Electric drive
quiet and
environmentally friendly
GTR glass frame transporter
by HUBTEX
With its energy-efficient, low-noise and powerful electric drive, the GTI glass frame transporter from HUBTEX achieves load capacities of up to 42 tons.  The elevated driver position provides the best possible visibility and highest safety standard during operation. The ergonomic cab entry with non-slip steps and handrail helps to protect the safety of the operator. The synchronous vertical lift of the frame eliminates displacement and ensures maximum precision during the lifting movement. The strengthened glass clamps with ultrasonic sensors prevent glass breaking and other damage during transport. We offer an optimized tire alternative based on how the vehicle is used.
REMOTE MAINTENANCE
A remote maintenance system is available for most HUBTEX electric glass frame transporters. The IoT solution transfers important vehicle data, such as fault codes and battery charge status, to a cloud. In the event of a sideloader malfunction, HUBTEX engineers access the truck's data directly and provide fast assistance. Users benefit from maximum machine availability and minimized production downtime. Retrofitting on used vehicles is also possible.
links
normal
rgba(46,51,56,0.7)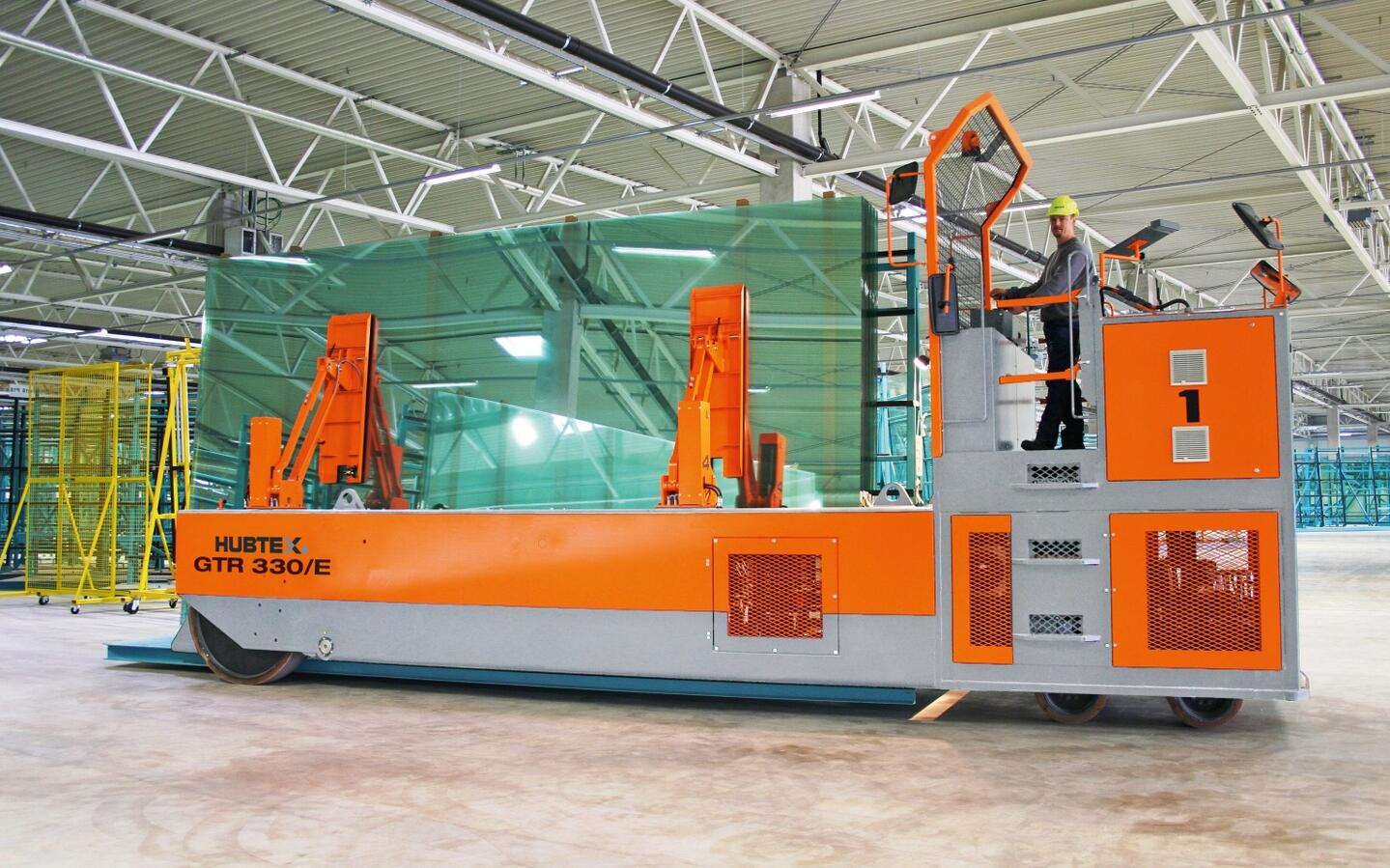 THE RECEPTION OF THE GLASS FRAME
The frame is lifted safely, precisely and without offset thanks to the special vertical stroke. To prevent damage to the glass panes during transport, they are held in place by four hydraulic safety devices. The ultrasonic sensors mounted on each claw prevent excessive pressure from being exerted on the glass package to be transported. This reduces glass breakage to a minimum.
links
normal
rgba(84,84,84,0.7)
We know the best solution.
We know that the handling of glass frames presents users with special challenges. Arrange a non-binding consultation appointment with our specialists to get the best possible solution for your application.
Technical data

Type description
Type
Series
Load capacity (t)
Load handling
Tire equipment
Engine
Glass-Frame-
Transporter
GTR 170
4036
up to 42
Frame transport
PU/EL
Diesel/Electric
GTR 300
4012/4013/4015/4016/4017/4030/4031
GTR 330
4012/4013/4015/4016/4017/4031/4037