Platform height
starting at
457
mm
Indoor and
outdoor use

Free traveling platform transporters
for in-plant heavy-duty transport
The transport of heavy and bulky loads presents a particular challenge. HUBTEX is able to meet this challenge with heavy-duty platforms in its new SFX series.
The new SFX platform transporters are available in the load capacity classes 25 t, 40 t and 65 t. In addition, special designs up to 130 t are also possible. The compact, self-propelled heavy-duty transport vehicles for indoor and outdoor use have a large loading area for transporting bulky, heavy loads. Thanks to its modular design, the cost-effective base of the transport system can be equipped with various steering systems or a platform lift and can therefore be expanded into an AGV.
Typical applications would be in-plant heavy-duty transport within the automotive and aviation industries and especially along the value chain of the metal processing industry, from foundry to trade to processing, and many other areas for example in mechanical engineering.
A solution designed exactly for the application will offer you maximum benefit, high vehicle availability and a long service life.
Load capacities up to 130 t
 Electric drive, quiet and environmentally friendly
 Electric battery, maintenance-free AC drive technology
 2-way and multidirectional steering
 Four different operating variants (cabin, driver station, remote control or automation)
 Different tyre variants
 Robust design
Allow us to configure your individual offer
Our platform transporters are ideal for in-plant heavy-duty transport. A number of different configuration options are available, adapted to your requirements. We will be happy to help you find the best possible solution for your application. We will be happy to provide you with a no-obligation offer without delay.
With the HUBTEX heavy-duty platforms, 
you benefit from a tailored vehicle concept
The modular system guarantees you a vehicle optimally adapted to your requirements, selection of the appropriate steering system or the right operating concept, from manual to fully automated:
Modular system
The high degree of modularity offered by the new heavy-duty platforms makes these vehicles adaptable to a wide range of applications. The frame of the new SFX is divided into three fixed areas front axle, rear axle and center section. Variability at the interfaces of the subassemblies facilitates order-specific adaptation of the length and width compatible to the transport task. Prefabricated modules, such as the wheel stool or the load wheel and drive rocker guarantee universal vehicle standards.
links
normal
rgba(84,84,84,0.7)
Steering systems
There are two different steering systems available for our heavy-duty platform transporters. We will recommend the appropriate option for you based on your aisle widths and drive-in situations. The 2-way steering is the standard variant for many applications. With small aisle widths, multidirectional steering is often recommended.
links
normal
rgba(84,84,84,0.7)
Automation
Due to the increased complexity and dynamics of the areas of application, flexibility and scalability are becoming ever more important in logistics – and therefore also in the automation of in-plant logistics processes. We estimate that, by 2030, up to 70% of straightforward, in-plant transportation will be partially or fully automated. This is why our SFX heavy-duty transport platforms are consistently prepared for automation. Even subsequent retrofits on previously delivered vehicles are possible in most cases.
rechts
normal
rgba(84,84,84,0.5)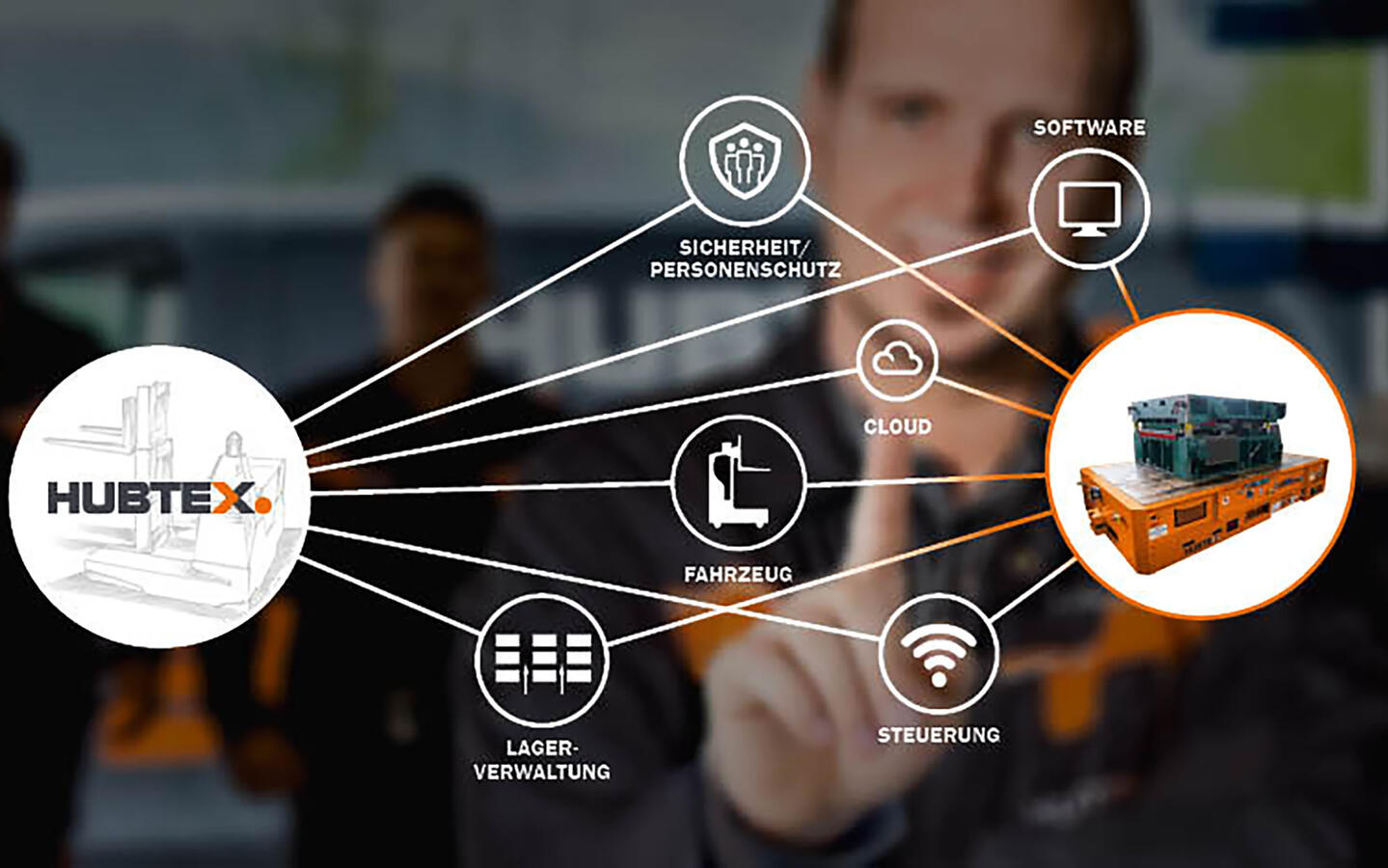 Features
Specialists in heavy-duty transport
The energy-efficient heavy-duty platforms from HUBTEX with electric drive offer a number of important features: 
Together we will find the best way.
We understand that the handling of heavy loads presents operators with particular challenges. Make a no-obligation appointment with our specialists to determine the best possible solution for your application.
Our heavy-duty platforms in operation
Special equipment
Customized platform transporter for your heavy-duty transport