HUBTEX side loader Forklifts
QUESTIONS AND ANSWERS 
Electric Multidirectional Sideloaders, Multidirectional Sideloaders and Sideloaders - with all these terms it is not easy to keep the overview. 
To find out exactly what is behind the term sideloader, what is the difference between a conventional sideloader and a multi-directional sideloader and what advantages you can benefit from this truck, please visit our Q&A (Questions and Answers) page.
If you still have questions, please do not hesitate to contact us.
WhY USE a side loader Forklift?
Wherever long loads are transported, loaded or unloaded, the sideloader is in its element. The sideloader is preferably used in external warehouses in the wood, building materials and steel industries. The trucks are available with diesel, gas or electric drive and set standards in terms of energy efficiency, economy and ergonomics with their high driving speeds and narrow cab design. Sideloaders are characterised by high travel speeds, large ground clearance and a wide range of tyre options. The trucks are suitable for transporting long goods in narrow aisles or can also be freely manoeuvred for fast and safe transport. Hubtex has specialised in the manufacture of special sideloader forklifts. These combine the advantages of conventional sideloaders with the requirements for operation in narrow aisles.
MORE INFORMATION ABOUT THE SIDELOADER Forklifts FROM HUBTEX
How is a side loader Forklift constructed?
A side loader is a forklift truck equipped with a side-mounted mast and a loading platform. Long goods can thus be picked up without turning off. In addition to load capacity and lifting height, the tires are the most important factor to be able to specify a truck that is optimally adapted to the requirements. Residual load capacity and stability, platform height and ground clearance are determined by the tires. The lateral load pick-up of the load is effected via the mast using mast extension, usually via two cylinders crossed over each other with end position damping in both end positions. The mast is thereby pushed to the load. The chassis of the device is brought into the optimum position for load absorption and load securing using platform inclination.
ARE THE ESSENTIAL COMPONENTS OF A SIDE LOADER:
- Large tyres for poor ground conditions and high driving speeds and a correspondingly high frame height 
- Underfloor engines in the frame for minimized noise emissions and better weight distribution
- Usually platform inclination for quick and easy load pickup and safe transport
- Rare mast tilt
- Underfloor engines ensure minimized noise emissions and optimized weight distribution
- Common drive variants: electric, diesel or gas drive
- Side mast with thrust mast for long goods
- Driver's cab with driver's seat position in the main direction of travel, transverse to the load
- The operation usually via joystick, single lever or fingertip, and steering column
- Special designs: Sideloaders with torque converter transmission.  
How is the mast reach of a
sideloader carried out?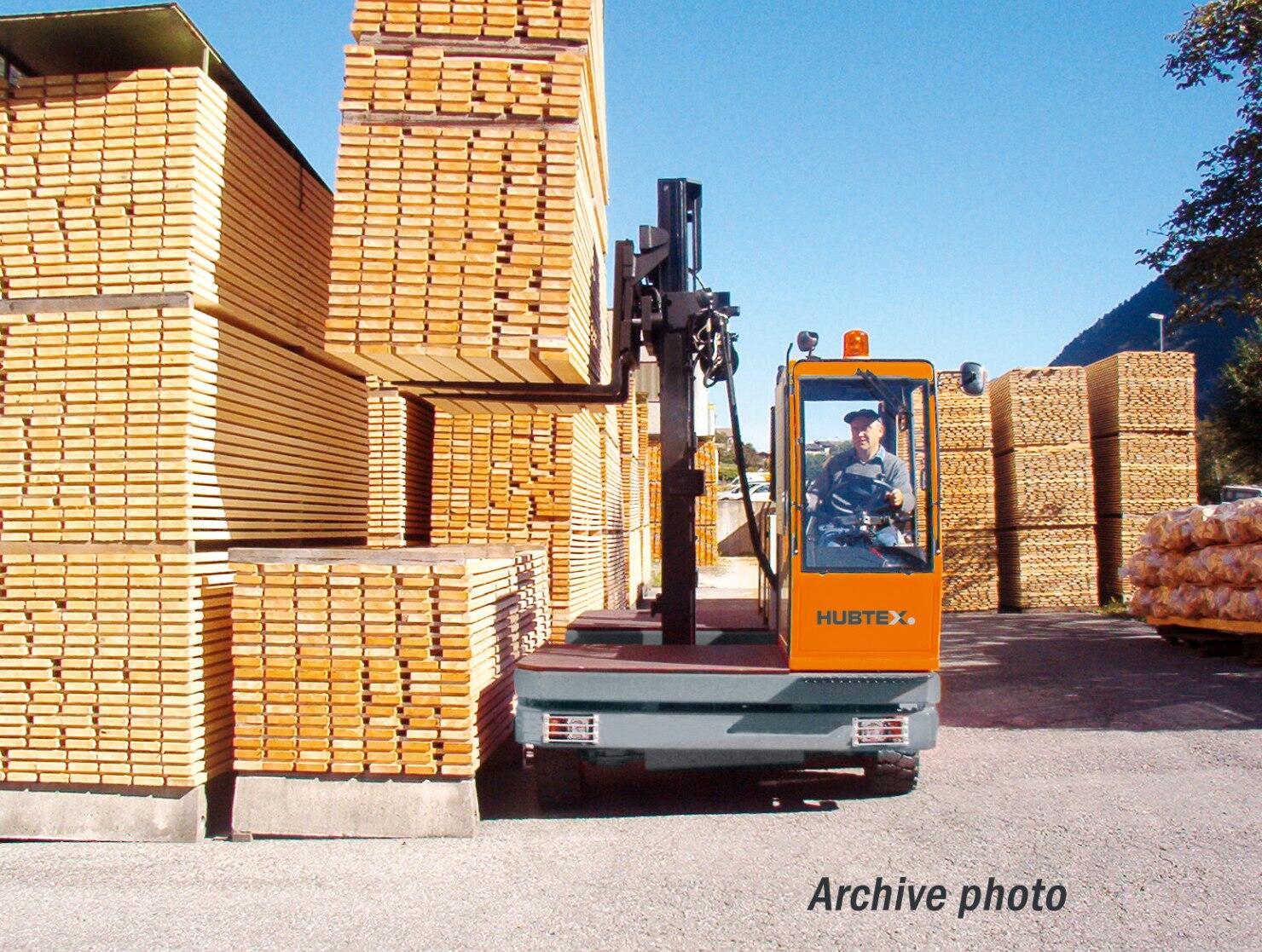 Why is there a frame tilt
on sideloaders?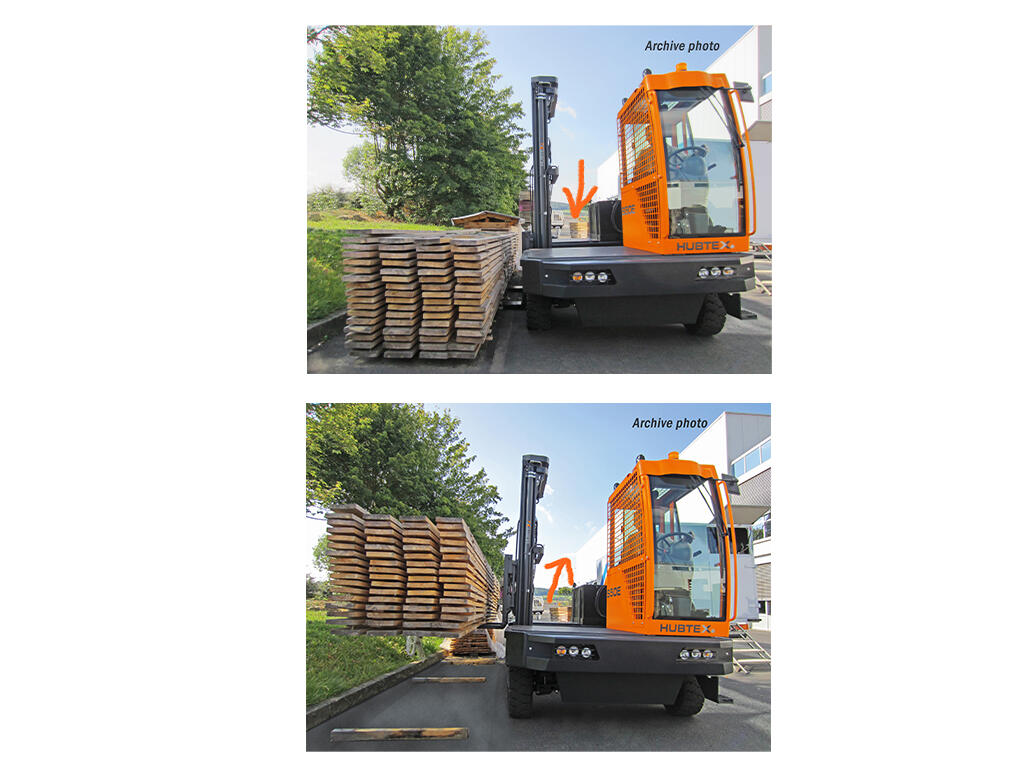 What is the difference between multi-directional sideloaders and conventional sideloaders?
Both vehicles are basically sideloaders, but in different versions. When long loads have to be transported quickly over long distances on poor surfaces, the conventional sideloader shows its advantages. Multidirectional sideloaders, on the other hand, have their advantages when space is limited due to their high manoeuvrability and can therefore play out their advantages especially in combined indoor and outdoor use.
Are used sideloaders a good alternative?
SIDELOADER VARIATIONS IN COMPARISON

 
2-Way-Sideloader
Multidirectional-Sideloaders
Load arm height
high
low
Tyre size
bigger
smaller
Turning radius
bigger
smaller
Cabin type
lengthwise seat cabin
lengthwise, crosswise, diagonal seat
or standup cabin
Tilt
Frame tilt
fork carriage and mast tilt
Drive
                                                     Electric, Diesel and LPG drive
Width to edge of forks
> 750 mm
> 600 mm
We know the best solution.
We know that handling heavy loads in confined spaces presents users with special challenges. Arrange a non-binding consultation appointment with our specialists to obtain the best possible solution for your application.