Diesel- or
gas drive

Combined
indoor and outdoor
use
Diesel/gas fourway
sideloader
by HUBTEX
The HUBTEX vehicles in the DQ series are ideal for outdoor use, especially with poor ground conditions. The driver is the focus of the latest development, the DQ-X. The cab has been designed to ensure maximum ergonomics and visibility has been increased to a maximum thanks to more compact masts and fork carriages. The intelligent vehicle control system, in combination with the latest motor technologies, reduces noise, exhaust emissions and energy consumption to a minimum. The vehicle is universally suited for the transport of long goods in narrow aisles or as a conventional frontloader for pallet and block stacking.
HUBTEX fourway forklift scores with best all-round visibility in its class
The focus of all new developments of the DQ-X with a load capacity of 4.5 t is the driver, which is why the newly designed cab and mast are highlights of the new series. The ergonomic cab offers improved legroom and the best all-round visibility in its class during transport and loading. The visibility is essentially made possible by the newly developed free-view lift mast and the compact fork carriage. In addition, the new windows with reduced reflection also contribute to optimum visibility. The driver is not distracted by reflections in the windscreen and can concentrate fully on the work process.
links
normal
rgba(46,51,56,0.7)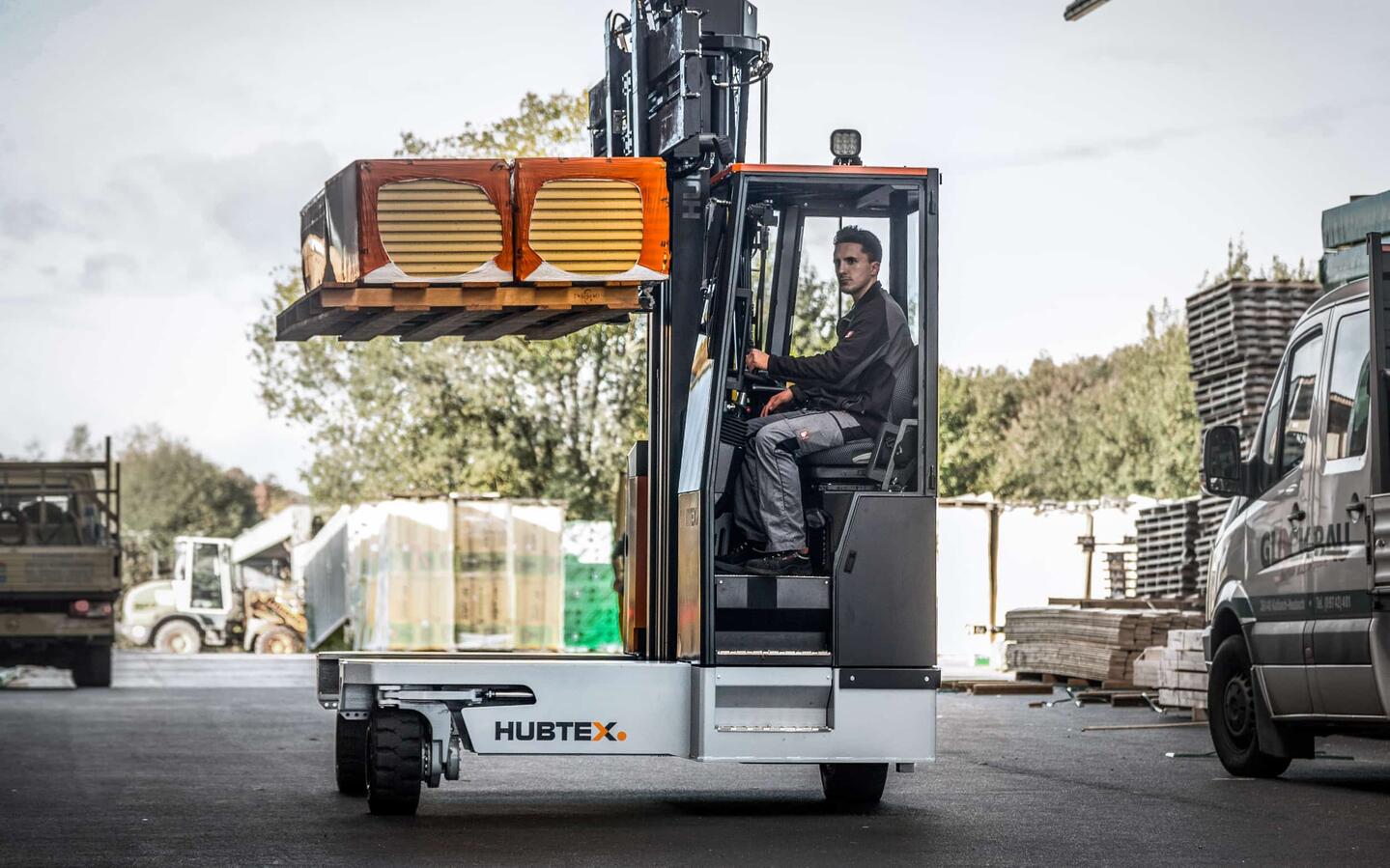 Energy-efficient and quiet
Users of the new fourway loader can choose between different driving modes depending on their work requirements. The new eco mode ensures especially energy-saving driving. Thanks to an intelligent vehicle control system, the pumps and cooling system are only supplied with as much energy as is required to carry out the current work. This saves fuel and also significantly reduces vehicle noise.
links
normal
rgba(46,51,56,0.7)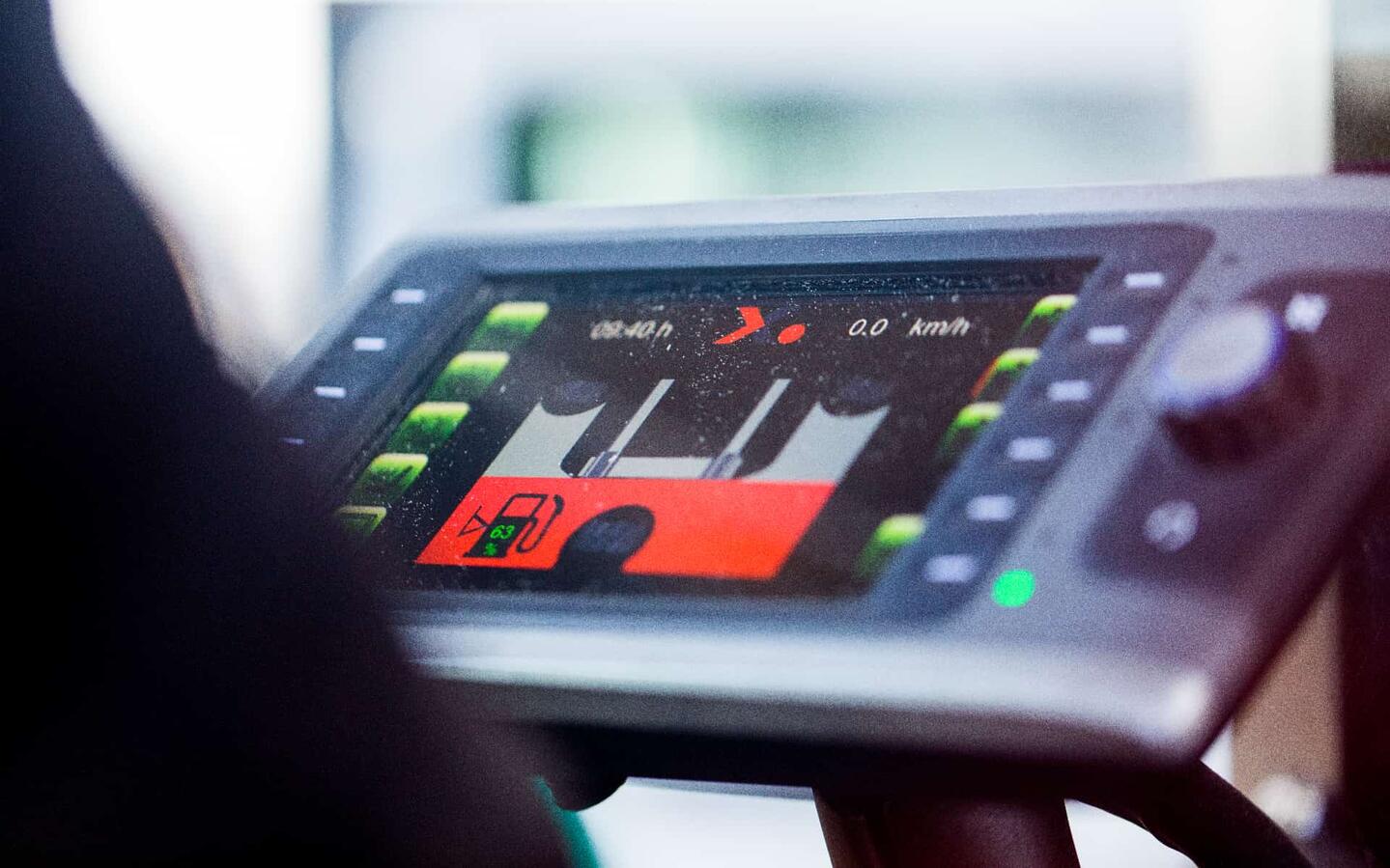 The best advice can be found here.
We know that the handling of long goods presents users with special challenges. Arrange a non-binding consultation appointment with our specialists to obtain the best possible solution for your application.
TECHNICAL DATA

| | | | | | | | | | |
| --- | --- | --- | --- | --- | --- | --- | --- | --- | --- |
| Series | Load capacity (t) | Load bed width NB (mm) | Lift height (mm) | Frame length L (mm) | Load bed opening RA (mm) | Tire equipment | Motor | Cab | Data Sheet |
| 3050x | 4.5 | 1200 / 1400 | up to 7500 | 2450 | 1340 | EL | Diesel / LPG | OptiView | PDF |
| 3051 | 7.0 to 8.0 | 1200 / 1400 / 1600 | up to 6500 | 2800 | 1600 | EL | Diesel / LPG | Comfort seat cab | PDF |
| 3052 | 10.0 to 14.0  | On request | On request | 3700 | 2000 | EL | Diesel | Comfort seat cab | PDF |