MOBILE RACKS:


MAXIMUM STORAGE CAPACITY IN A SMALL AREA

In intralogistics, it is important to avoid contact with racks and goods during the picking process. Wide aisles were therefore the solution for a long time. However, this wastes valuable storage capacity. Mobile racks in combination with multi-directional forklifts, on the other hand, eliminate the need for safety gaps and ensure optimum use of space. The result: reduced operating and real estate costs and a significant increase in throughput.

That the use of mobile racks is worthwhile is proven by their increased use in intralogistics. For this purpose, individual rows of shelving are mounted on mobile transfer carriages whose wheels move along rails located on the floor. The user opens the service aisle required depending on the goods; the remaining rack rows are pushed together in the process. The storage space capacity is thus increased and traffic routes are eliminated.
SPECIAL FEATURE: LONG GOODS HANDLING
Mobile racking systems and their combined use with multi-directional forklifts are nothing new at first. What has changed, however, are the application possibilities - especially in long goods handling. The positioning accuracy of mobile racking systems has steadily increased in recent years. This has resulted in the possibility of using multi-directional forklifts in the narrow aisle via a guide wire. The trucks are equipped with a semi-automated shelf positioning system that enables the shelf to be approached precisely - both horizontally and vertically. Personnel protection systems complement the system and ensure increased safety in the narrow aisle. As a result, more and more industries, such as wood and aluminum, are taking advantage of mobile racking to pick their long and bulky goods, such as wood materials or pipes, with the help of forklifts.
Bild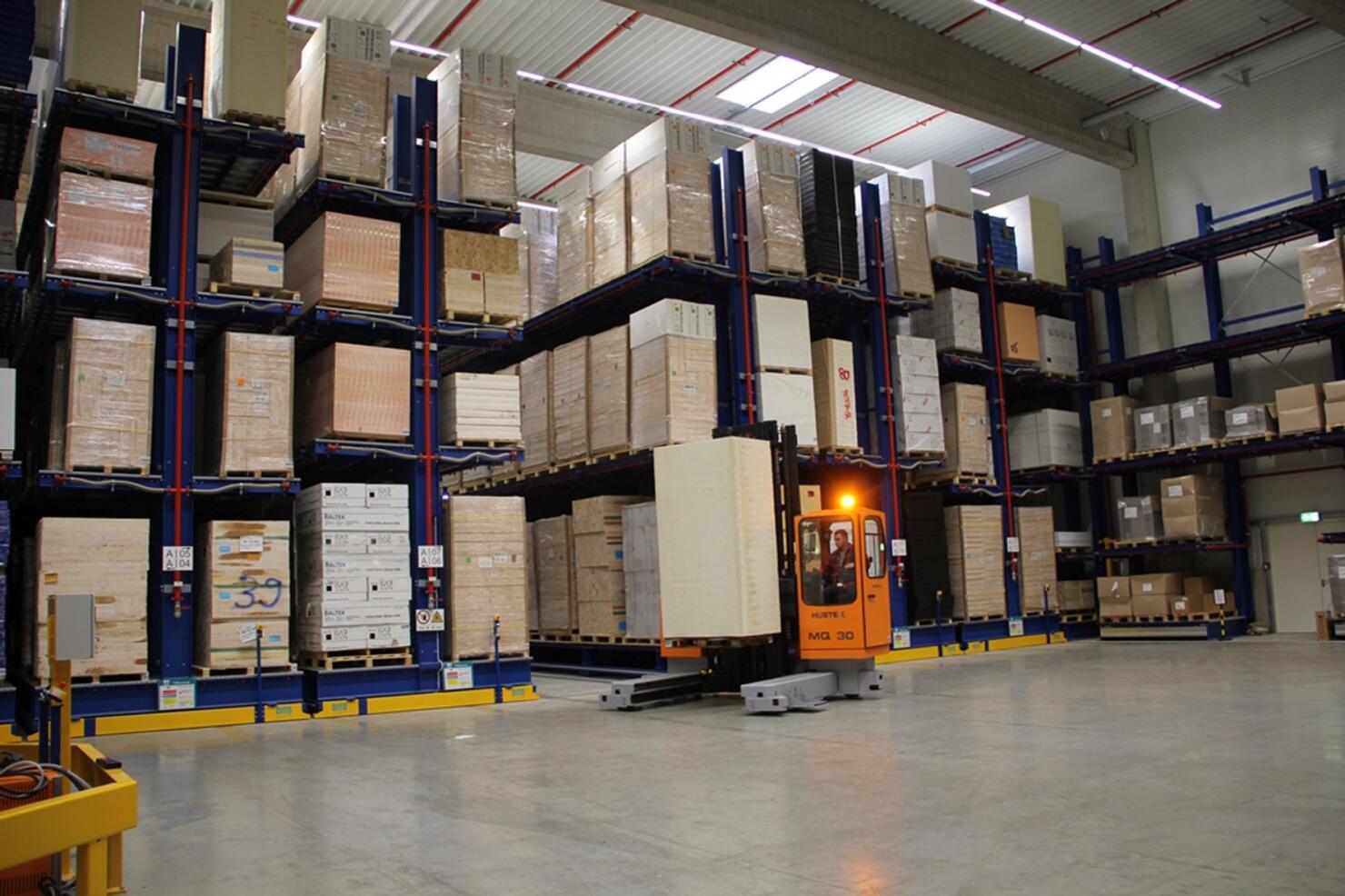 Bild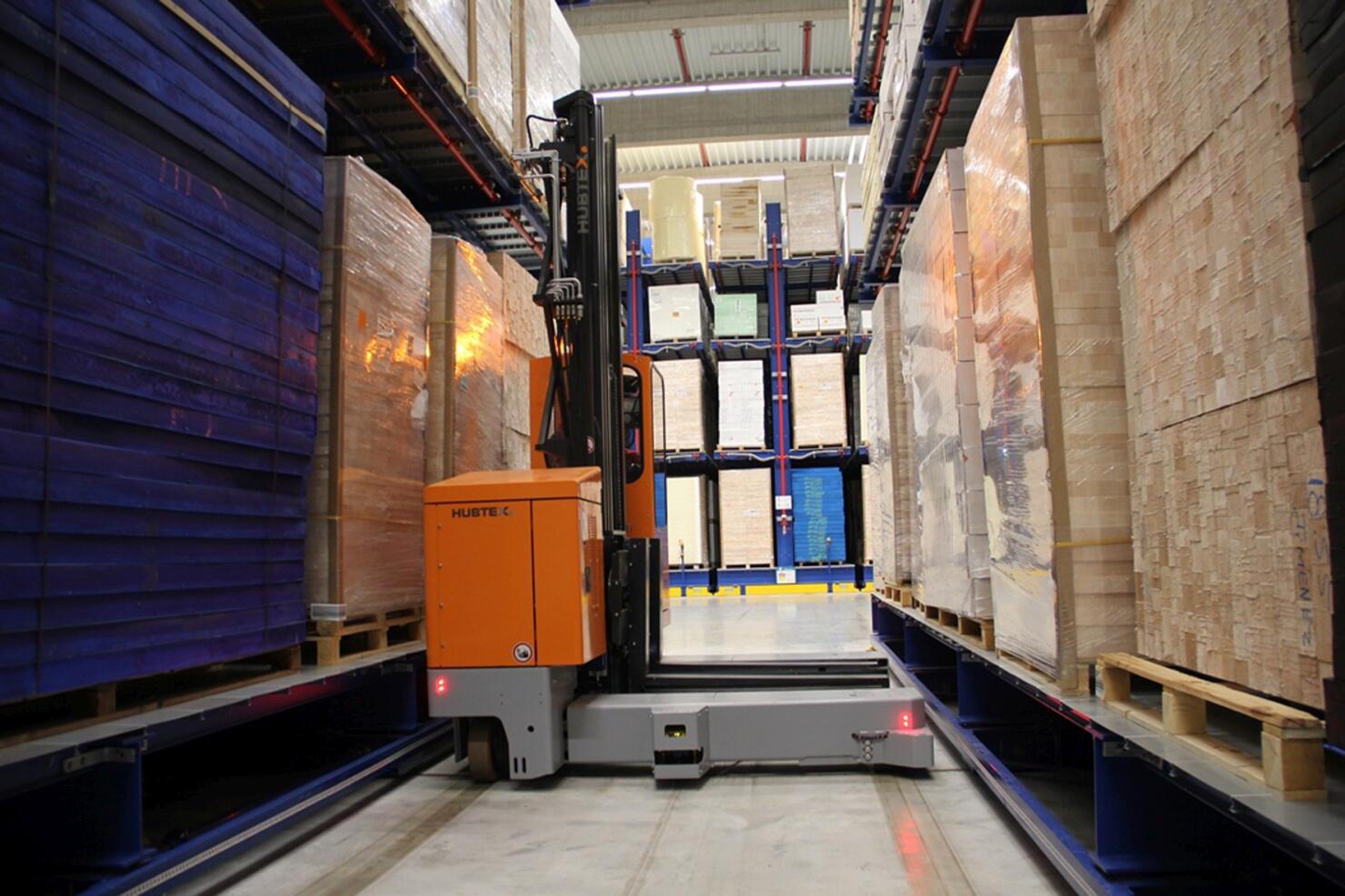 MOBILE RACKING AND MULTI-DIRECTIONAL FORKLIFTS AT GAUGLER & LUTZ
The company, based in Aalen-Ebnat, Germany, specializes in lightweight and sandwich construction as well as the manufacture and distribution of sports, rehabilitation and leisure articles. On an area of 2,200 m², Gaugler & Lutz has erected a 12 m high cantilevered mobile racking system. This results in a storage capacity for around 2,500 pallets. The pallets are transported by two MQ 30 electric multidirectional sideloaders from HUBTEX Maschinenbau GmbH & Co. KG. Inductively controlled pathways enable the pathways into the mobile racking.
OBJECT-BASED LASER NAVIGATION FOR ACCURATE ROUTE CREATION
Object-based laser navigation enables improved guidance in the rack aisle and integration of assets with lower positioning accuracy. The vehicle uses raw data from the personal protection scanner or 2D laser scanner to create environment maps. Based on these, it identifies the rack aisle and is able to follow routes with an accuracy of up to +/- 15 mm. The process also tolerates changes in the environment.
A NARROW AISLE SOLUTION WITH ADDITIONAL VALUE
The combination of mobile racking systems and multi-directional forklifts optimizes space utilization, increases throughput, and ensures safety, in particular thanks to the inductive track guidance in the mobile racking system. In addition, pallets can be approached with millimeter precision thanks to the rack compartment positioning system. The additional option of connecting to the Warehouse Management System (WMS) increases the efficiency of the material flow.
You would like to optimize your warehouse as well?
Take a look at our multi-directional forklifts and get advice from our experts.