Order picking on
both sides
of the rack
High rate
of turnover

Narrow rack
aisle width

Electric
multidirectional
order picking platform
by HUBTEX
The electric two-sided order picking platforms of the EZK series are solely order picking platforms. Whether in the 2-mast or scissor lift version, they enable the picking of profiles up to 8 m in length. The goods can be easily picked from either side of the rack aisle. A load shifting device is optionally available for both models to facilitate the removal of the customer consignment by a separate lift truck.
EZK two-sided order pickers 
In order to pick profiles quickly and without damage, manufacturers and dealers need an order picking system adapted to the individual requirements of the respective warehouse. With the help of a vehicle concept especially adapted to your needs and requirements, all areas of application can be mapped with the order picking platforms from HUBTEX.
In its basic version, the platform solution from HUBTEX is suitable purely for picking pipes and profiles on both sides of a rack aisle. Two operators stand on the platform and pick the long loads manually. Once the consignment is ready, stacking in this case is with multidirectional sideloaders. In the next expansion stage, the vehicles can optionally be equipped with telescopic tables which stack the consignment in the rack system and enable the direct transfer to the next production stage. Consequently, no additional lift truck is required to unload the goods, meaning that the rack aisles can be particularly narrow if required.
links
normal
rgba(46,51,56,0.8)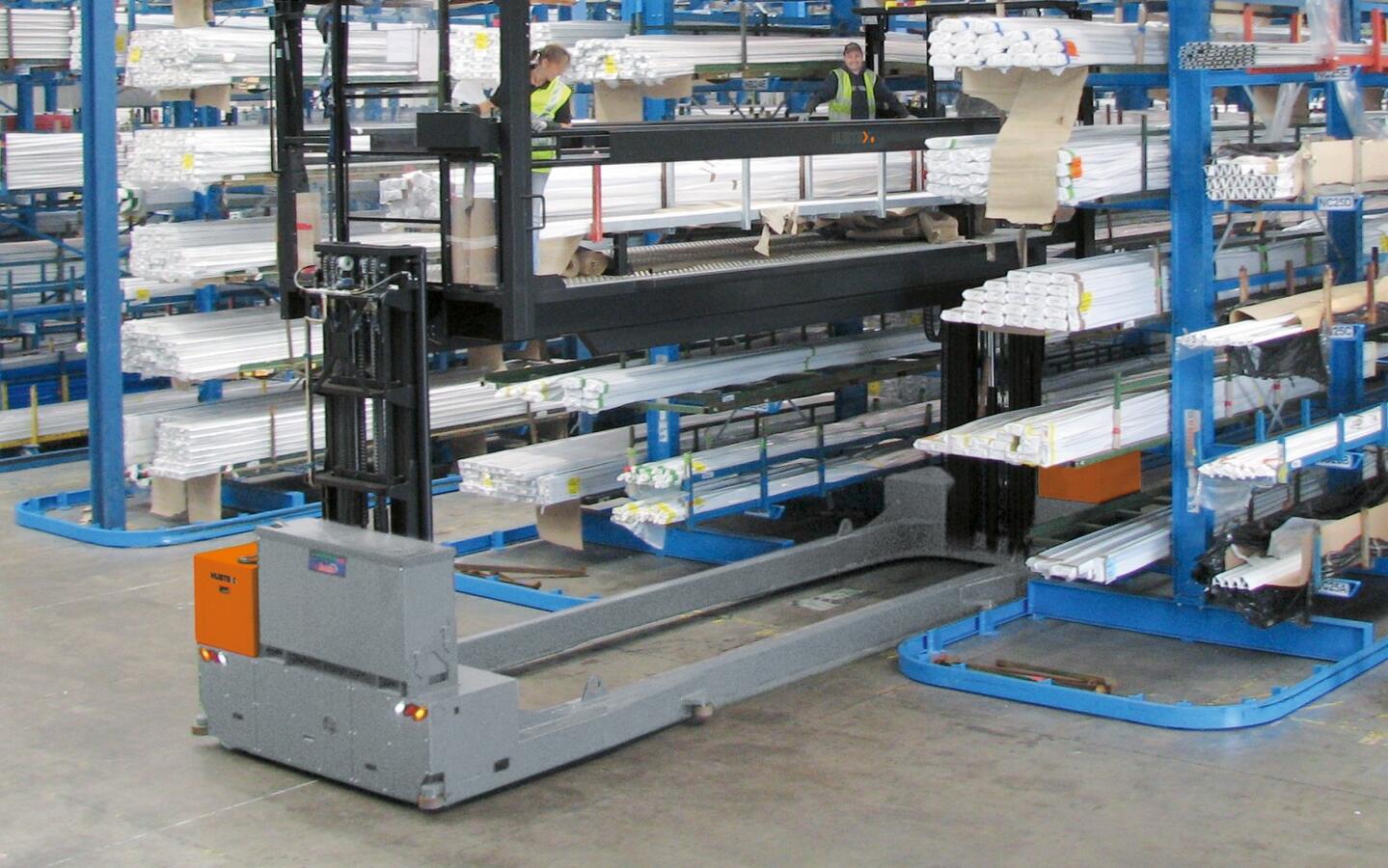 Unser EZK verlässt das Werk in Fulda
Fast wie in Watte gepackt sieht er aus. Damit bei dem Transport zum Kunden auch wirklich nichts passieren kann, geben unserer Versandmitarbeiter alles. Von Straßensperrungen bis hin zu Fahrzeugen die unsere Schwerlasttransporte begleiten, bei der Auslieferung unserer Stapler achten wir auf jedes noch so kleine Detail, sodass diese beschädigungsfrei bei unseren Kunden ankommen.
links
normal
rgba(46,51,56,0.7)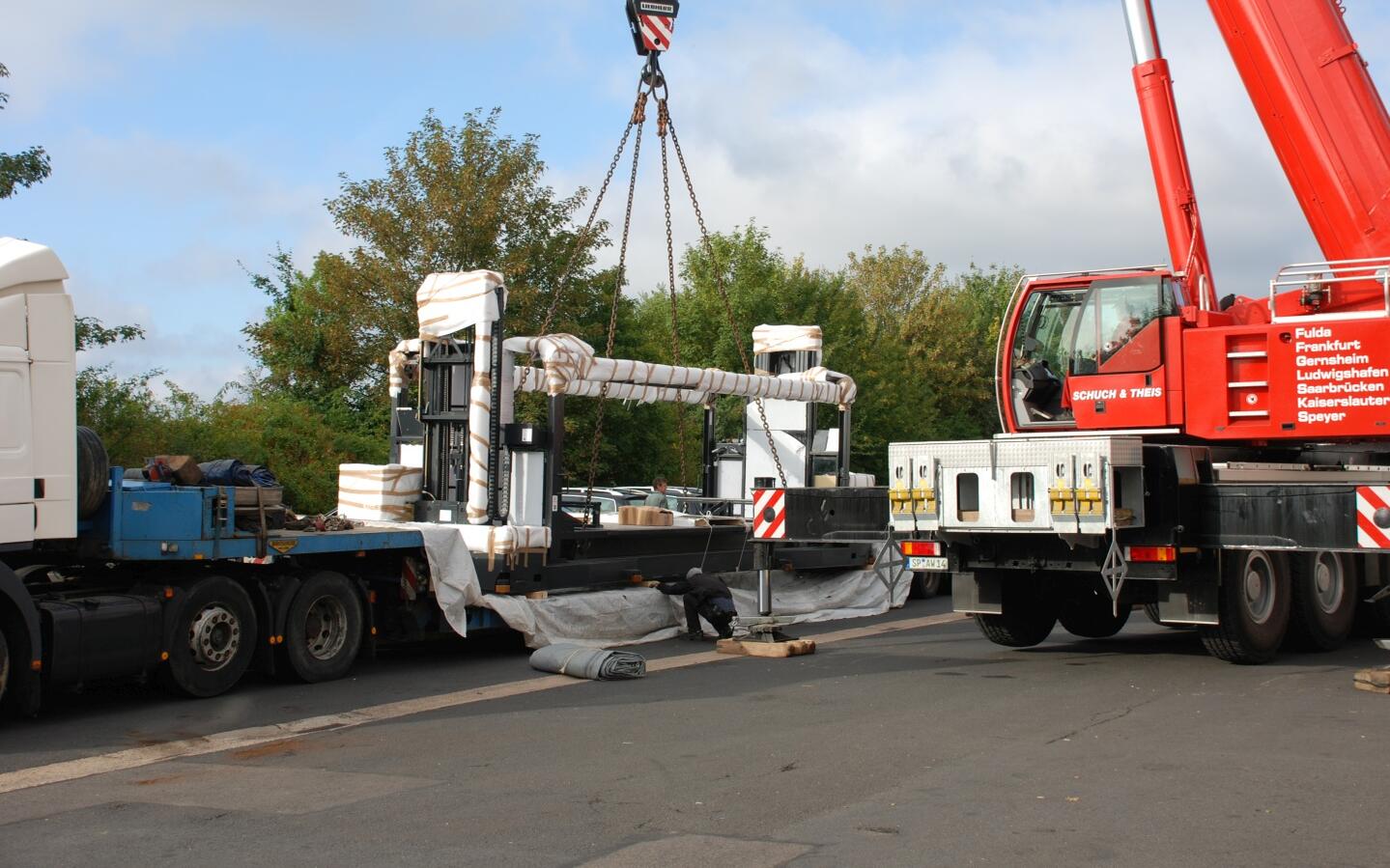 We know the best solution.
We know that the handling of long goods presents users with special challenges. Arrange a non-binding consultation appointment with our specialists to find the best possible solution for your application.
TECHNICAL DATA

| | | | | | | | | |
| --- | --- | --- | --- | --- | --- | --- | --- | --- |
| Series | Load capacity (t) | Load bed width NB (mm) | Lift height (mm) | Frame length L (mm) | Load bed opening RA (mm) | Tire equipment (optional) | Battery voltage | Cab (optional) |
| EZK (scissors) | 3.0 to 6.0 | 600 to 1200 | up to 10000 | up to 9000 |              --- | PU / EL | 80 V | Driver's stand |
| EZK (lift mast) | 3.0 to 6.0 | 600 to 1200 | up to 10000 | up to 10000 |               --- | PU / EL | 80 V | Driver's stand |