Adaptable
to all
applications
Electric multidirectional order picking platform
MU-OP | MU-SO
by  HUBTEX
 
Our multidirectional order picking sideloader in the 1-man version (MU-OP) and the 2-man version (MU-SO) can be adapted to your individual requirements. The models are specially designed for picking profiles and pipes in narrow aisles. At the same time, these trucks can be used as conventional electric multidirectional sideloaders for the stacking of complete packs. 
Order picking directly from the cab
The MU-OP model is designed for one operator for the order picking of lightweight loads, such as aluminum, plastic or steel profiles. Its narrow rear frame, the optimized design of the lift mast and the central standup cab in front of the mast make the vehicle very narrow and therefore ideal for use in guided aisles. The central configuration of the standup cab in front of the lift mast gives the driver a clear view into the rack compartment, enabling him to pick light loads directly from the rack. Despite the slender design of the cab, all functions of the multidirectional sideloader are included, making the truck a fully-fledged electric multidirectional sideloader. This means that this vehicle can transport complete packs and bundles or provide manual assistance for order picking processes.
links
normal
rgba(46,51,56,0.8)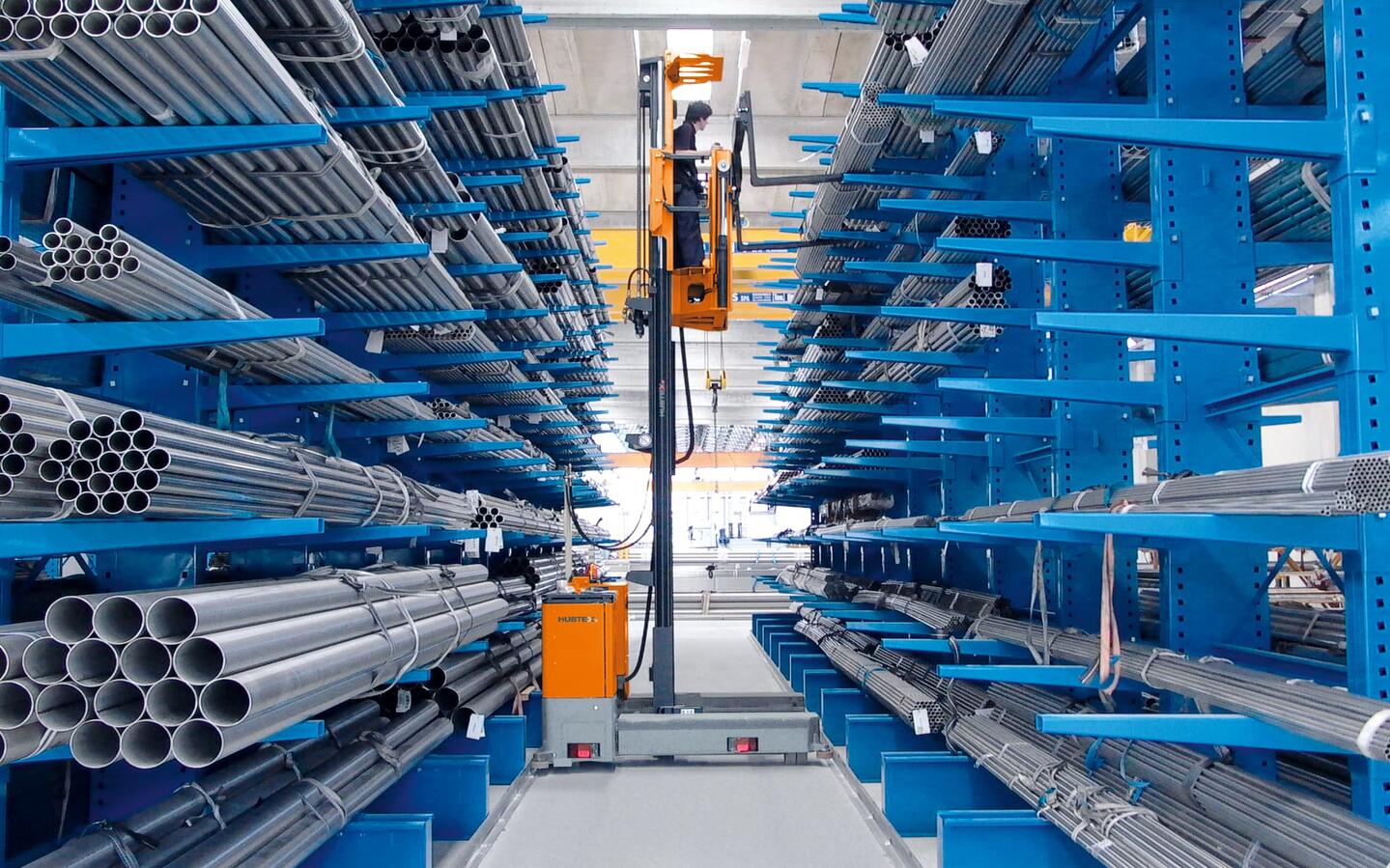 Available with two cabs for long loads
The MU-SO model with two operators is recommended for the order picking of medium to heavy loads. In this model, the cabs are arranged next to the lift mast. This allows for easy order picking by two people, particularly in the case of longer loads.
When stacking complete packs, the truck is controlled by one driver. Optionally, both cabs can be equipped with all operating controls. However, as both cabs are usually only used when picking long loads, one complete control station is usually sufficient. The second cab is equipped with reduced equipment options but complete safety functions. 
Furthermore, the MU-OP and MU-SO series are equipped with all proven HUBTEX standards, such as two-part chassis frames, robust lift masts, ergonomic workstations, three-phase AC technology and HUBTEX information terminals with color graphic displays. 
rechts
normal
rgba(230,114,52,0.5)
We know the best solution.
We know that the handling of long goods presents users with special challenges. Arrange a non-binding consultation appointment with our specialists to find the best possible solution for your application.
TECHNICAL DATA

| | | | | | | | | | |
| --- | --- | --- | --- | --- | --- | --- | --- | --- | --- |
| Series | Load capacity (t) | Load bed width NB (mm) | Lift height (mm) | Frame length L (mm) | Load bed opening RA (mm) | Tire equipment (optional) | Battery voltage (V) | Cab (optional) | Data Sheet |
| MU-OP (2121) | 1.5 to 2.0 | 600 to 1600 | up to 8500 | 2950 | 1340 | PU | 48 V | SU | PDF |
| MU-OP (2140) | 3.0 to 3.5 | 600 to 1800 | up to 8500 | 3640 | 1340 | PU | 80 V | SU | PDF |
| MU-SO (2140) | 3.0 to 5.5 | 600 to 1800 | up to 10000 | 3640 | 1340 | PU | 80 V | 2 x SU |   |
| MU-SO (2131) | 5.5 to 7.0 | 600 to 1800 | up to 10000 | 3170 / 3500 | 1630 / 1960 | PU | 80 V | 2 x SU |   |